Accomodations
A Country Cat House offers a variety of large spacious condos, villas and three story townhouses to assure your pet's comfort. Our facility is an exclusive vacation resort and cat boarding facility. We have more than 20 years experience caring for cats and providing cat only accommodations. Cats are very sensitive creatures, so we allow no dogs on the premises.
Your cat has his own personal space, safe and secure. If you have two or three cats that might need to be together our townhouses can accommodate them. Your cat's contentment is our main concern and our trained, experienced staff monitors your pet 24/7.
All units have floor to ceiling glass windows overlooking lush tropical gardens with birdbaths, bird feeders and fountains. Perfect for lizard, bird and squirrel watching. We also have suites with their own fish tank or TV if that's what your pet desires. Quite entertaining!!! And soft soothing music plays in the background. Your pet will return from his stay relaxed and renewed. See our newly designed interior below.
Check out our Services Page to see all that your pet will enjoy.

REQUIREMENTS
Call us for a reservation. There is a $25 deposit required of new customers, refundable if you cancel 14 days before your reservation date. Our suites are always in demand, so call ahead to ensure your pet's space. Come by and checkout our facility,. We love to meet future guests. See our Welcome Page for Visitor's hours.
HOLIDAYS: Minimum 3 day stay. A $25 deposit is required per cat for all major holidays. If you cancel 14 days prior to check in, you will receive a full refund of your deposit.
Proof of Current Vaccinations: Rabies, Feline Leukemia, Distemper (current within the last twelve months). These may be faxed to us directly from your Vet.
FAX (813) 654-2287
Garden view $27.00 /2 cats $53.00
TV room $30 / 2 cats $59.00
Fish aquarium $29.00/ 2 cats $57.00.
2 level townhouse-$55.00 for 2 cats.
3 level townhouse - $69.00 -- for 3 cats
-- $75.00 for 4 cats.
2 level Fish aquarium-$63.00
3 level Fish aquarium-$76.00
Call for multi - cat discounts
10 percent off for military or retired military
Rates are as of Feb.25, 2022
(Call for our current rates). .
New guests must prepay at check in for their stay.
Returning guests may pay at check out. Thank you.
A Country Cat House...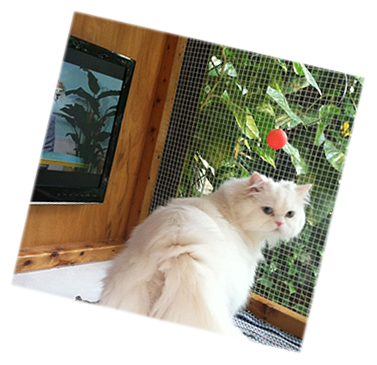 The closest thing to home and the next best thing to YOU!
Office Hours
Monday - Friday 9:00am - 5:00pm
Saturday 9:00am - 12:00pm
Closed Sunday and major holidays
Tour Hours
Monday, Tuesday, Thursday, Friday 9:30am - 4:00pm
Saturday 9:30am - 11:30am
Click to give us a call

1 (813) 654-2287
Click Below To Go To:
WELCOME- - BOARDING - - SERVICES
TESTIMONIALS - - MEMORIES